If you care even a tiny bit about your self, you will now invest in the best heated foot spa. The weather, the traffic, the time, nothing will come in between you and your feet now.
If you think weekly spa treatments are overpriced or you don't have the time for them, it is okay and you are right. But, if you think that because of these two reasons you have to show up at work, dates or at the grocery store with dirty, rough or even with infected feet, then you are wrong.
Just take a deep breath and get ready to welcome a brand new, personal care unit in your life. This will release the built-up stress of the week, it will remove dirt and gunk and it will cleanse your soul because pedicures are therapeutic. You can simply spare about 20 minutes a week right? You can pull out your simple to use massage and foot spa unit on the weekend or a weekday and prepare for a special night out or the rest of the week.
A good pedicure unit will give you a quick pain relief treatment. It will leave your feet cleansed. It will rinse out the build-up dirt from underneath your nail beds and your cuticles. A good foot spa will also allow you to pamper yourself at home whenever you feel like it, year after year. If you want to have that freedom and a consistently well-performing heated foot spa for yourself then keep reading this guide designed to help you find the right one.
We looked into foot spa options from many medical and beauty brands, we then shortlisted these five with the best reviews, qualities, and performance for your satisfaction. Here is what we found: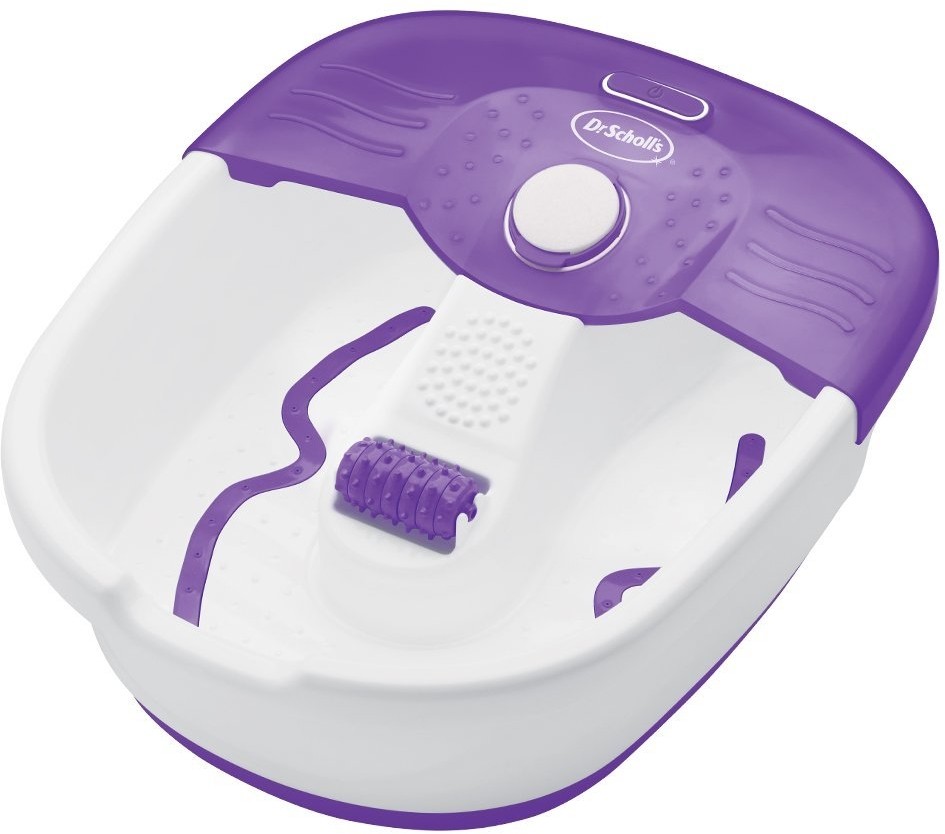 Dr. Scholl's Invigorating Pedicure Foot Spa
If you are looking for a medically proven pedicure set then you should really look into the Dr. Scholl Invigorating Pedicure Foot Spa. This is going to be a luxury experience packed in a foot bathtub. The pedicure unit can be heated and the water will bubble like a Jacuzzi.
Features
You can use the pumice section to scrub away the callous parts of the heel. The dead skin on your heels makes your feet look untidy and dirty. The pumice is removable to your liking but it can amp up the beauty of your feet. The spa unit also has a built-in massager. The rollers of this massager help in relieving stress as a quality spa treatment does. The Dr. Scholl's Invigorating Pedicure Foot Spa has a smart heating system. This keeps water warm for a longer and sustained period of time. It also comes with 5 complimentary pedicure brushes for the most optimal cleaning solution for your pedicure time.
Pros
Unique and smart heating system
Pumice and five brushes for pedicure included
rollers allow a smooth and relaxing luxury massage
Cons
This spa treatment will allow you to enjoy an oasis treatment with a soothing massage. The heating allows your feet to release the toxins into the water and helps in improving the blood flow to the region. This is a high premium choice.
Conair Active Life Waterfall Foot Spa
If you want your bubbles to produce a satisfying sound and their size to be bigger you should look into the Conair Active Life Waterfall foot spa. This is much more relaxing aesthteically because it feels like you are walking on a warm waterfall.
Features
It has a simple operation through the 3 easy-to-use toe-touch pushable buttons. Thee are used for different things like activating the bubbles, turning on the waterfall and beginning the heating. This unit comes with 3 attachments. These help in further improving your pedicure experience. These include a scrub brush, a dead skin removing pumice stone and a soft-touch massager. The massager has discs that are designed to exfoliate the underside of your foot. These remove dead skin and allow fresh blood to be circulated into the region. This makes your feet glow once you are done with the massage.
Pros
Loofah built-in
Foot rollers massage by soothing the foot soles if tired
LED lights enhance the aesthetic beauty of this massage experience
Cons
This can be particularly enjoyable after a long tiring day of work or play. You can undo toxin build-up and clogged nail beds with this foot spa option at home.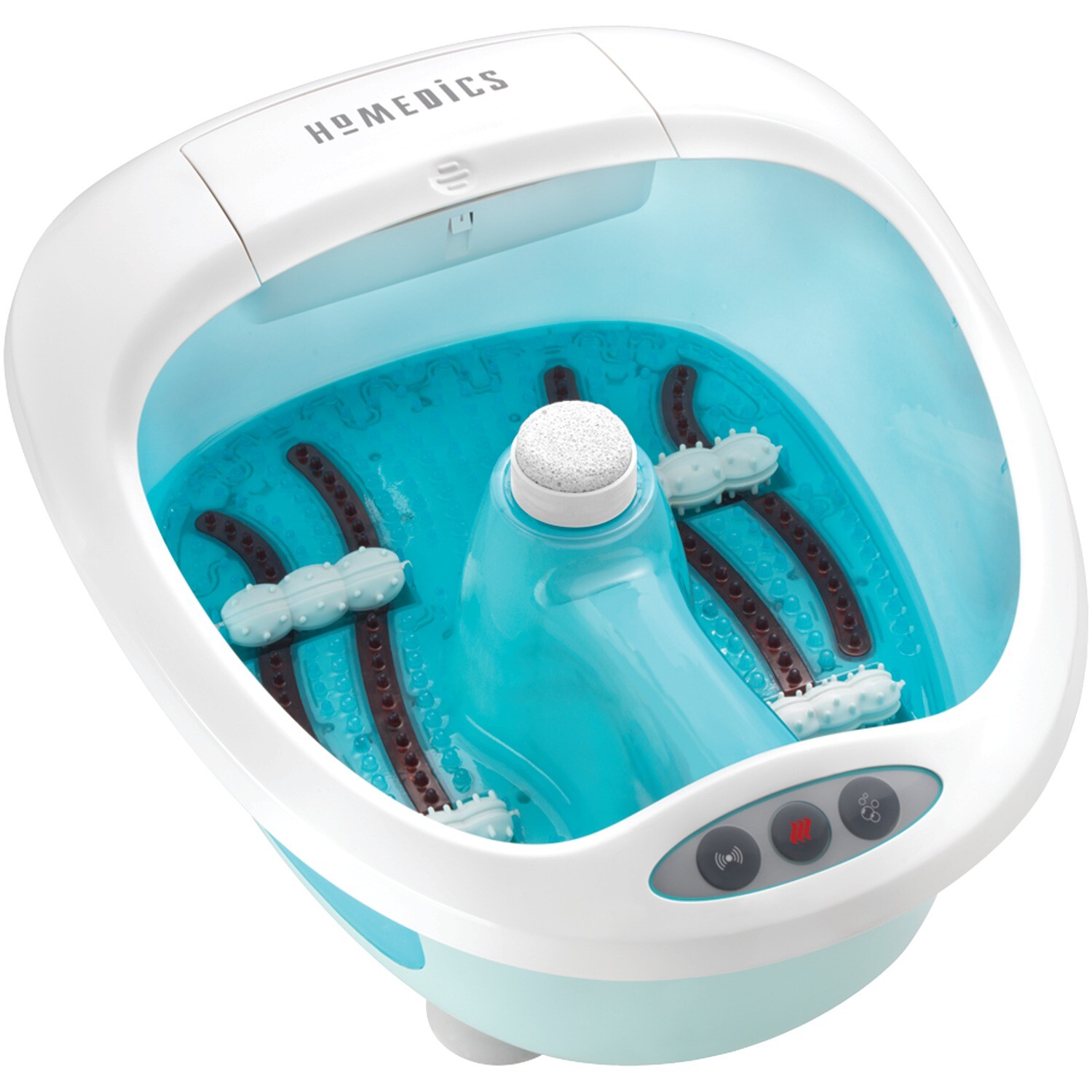 HoMedics Foot Salon Pro Footbath with Heat Boost
The HoMedics Foot salon is a complete professional treatment at home. This unit delivers you a perfect footbath that leaves your skin looking fresh and baby soft. You can feel the difference in quality with the massage-heavy features of this unit. It comes with 4 separate attachments and a splash guard to ensure no mess is made. The unit includes pedicure attachments that can make your pedicure quick and easy. The massager built-into the system offers a relaxing vibration foot massage. These can make your tired, hard skin soft and rejuvenated. Your foot pain and callous dead skin can be revived with the massager. It has 4-pressure nodes to achieve the right amount of intensity.
Features
The pedicure unit can be quickly heated. If you put in cold water right now, you will get to 98 degrees Fahrenheit in moments. This is great for a quick and fancy massage that is suddenly planned. The pressure nodes and the roller provide an excellent kneading massage while the feet are in the water. This can soothe the muscle internally and the fresh flowing blood into the veins will make dull-looking feet much more vibrant and alive.
You can simply soften and pamper your feet with the included rough pumice stone. Or if you want something gentle you can use the smooth pumice stone. If you want something soft, you can use the included cleansing brush or even a massage roller. The splash guards prevent spillage or making a mess. It also makes the pedicure unit safe to use.
Pros
quick heating, no or little waiting time
Relaxing and intense massage options
Splash guards to prevent mess
Cons
Not available in many color options

No remote control included
This allows your overworked feet that put up with bad heels, uncomfortable shoes, and your bodyweight all day long to soothe and relax. It will give you a squeaky clean pedicure with a wide range of tools that can be used for exfoliating and cleaning the feet thoroughly.
PIBBS Foot Bath Massager
The PIIBS Foot Bath Massager is a great add on for your existing pedicure sets or manual pedicure kits. This can help in unwinding your stressed feet.
Features
It vibrates the feet thoroughly. That lifts the dead skin and the pain areas. The vibrating massage action allows the bath to be than what you already have and may call a pedicure kit. This bath maintains heated water whose temperature remains consistently warm and allows a longlasting relaxing experience. You can add bath salts for an enhanced pleasurable and comfortable experience. The PIBBS foot bath can detoxify your feet in minutes but you will want to relax for a longer period of time. You can do so without worrying about the mess. The device is designed to prevent splashes and spills with the detachable splash shield.
The set will include all luxuries you need to make this extra-ordinarily luxe. You will get a one-foot bath massager this measures about 14 inches wide, 15 inches long, and 6.5 inches deep. The unit will come with a 1-year warranty.
Pros
Detoxifying and relaxing
1year warranty
Cons
-One foot can be used at a time
What this will do is add to your beauty routine and bring out the benefits of all the accompanying tools. You can use it as an extra bath or at home as Huda Beauty does.
8 Best Neck Massager Pillows to Buy in 2020
All in one FB09
The FB09 is a great way to unwind after a long and tiring day of overworking your feet and legs. You can simply add water to it, turn it own, add some essential oils and dip your feet into it for a great relaxing and unwinding experience.
Features
The machine is safe with an ETL certificate. It also offers electric leakage protection. The pedicure unit can help in improving your metabolism, digestive system, acne, and skin problems, relieve fatigue, and smoothen the meridians (Qi system).
It comes with 3 pre-set programs, each offers different varieties of massage. Such as a high-frequency vibration massage, heating features, and oxygen bubble massage.
Pros
Large-sized
Highly safe
Offers bubbles filled with o2, light and heat functions
Durable body that is heat resistant
Cons
The all-in-one foot pa has a spa bath massager built-in, it has heat sensors and it is a large and safe option to utilize both feet at once. It can prove to be a great item for personal use and as a gift for others too.