Our body requires smooth and consistent blood flow to continue to pass all the nutrients collected from our food intake around the body. This requires us to eat healthily, stay active and breath well. While eating and breathing are in our control, blood flow really is not.
We can, however, invest in some best foot circulation machines to improve our blood flow and pump our blood better. This can make us healthier and boost our immunity from diseases and infections.
We can also work out to boost immunity and reap the same benefits, but either due to age factor or due to other constraints such as time and energy, sometimes working out is not possible. A good quality foot massager is not a replacement or the workout or running, but it can fix a few problems for you. Few very important health problems in fact.
These devices work by using electric impulses, vibrations and even small signals to your body by creating sensations and stimulations in specific foot regions. These stimulations result in a rejuvenation of the nerve endings and the tissue under the skin at contact.
Increased circulation of blood can improve many physical conditions and temporary problems. Improved blood flow can also improve swelling and achy body pains. The blood circulation machines made for the feet help in achieving better blood flow by optimizing the blood flow enhancement massage technique for the feet and legs. Feet contain several key pressure points, according to reflexology. The science also allows us to understand the importance of tiny veins and their big roles in the overall performance of the organs. This makes blood circulation machines very valuable.
Most of these machines are useful for use with the rest of the body as well. You can basically promote the blood circulation in any part of the body with the right stimulator that actually does something. To find that, let's look into the subject of the Best Foot Circulation Machine.
REVITIVE Circulation Booster
The Revitive Circulation Booster is one of the reliable options for scientifically proven circulation-boosting machines. This helps in rejuvenating muscle health and nerve strength. You can relieve old aches and pains with this Revitive machine. The usage of the machine can increase the ability to walk longer and bear more weight on the legs over time. The results have been clinically tested and proven.
Features
The foot and leg circulation machine works by using a unique ISOrocker system. This system generates about 15 variable waveforms. The waveforms include electrical muscle stimulation (EMS) systems and patented technology to effectively relive leg pain and muscle tension. You can undo months and years of worth of muscle damage with this device.
This is a whole new level of science. Big pharma will never let you heal with the natural ways without any drug interference, which is why the Revitive Circulation Booster is a rather natural and drug-free way to help soothe legs and common foot pains.
Upon regular use, you can definitely feel the freedom of being . For example, if you use this for 30 minutes daily for 6 to 8 weeks, you may be able to enrich your foot and legs in a way that never felt before. This can save you a lot of energy on a daily basis spent in feeling sore or tired due to the foot pain. Some people have been able to be completely pain-free in 6-8 weeks only.
The circulation improvement unit includes you to choose from about 99 intensity levels. This offers great comfort and customization for how much you can accept and absorb comfortably at once.
Its IX circulation booster stimulates the toughest and most callous parts of the feet.
You can also use this in other parts of your body to help those areas to feel the same healthy and stronger way. The unit includes Electrode pads that can be placed on other areas for similar effects. The pads can gradually stimulate the muscles of any part of the body and help them be stronger and better.
Pros
-Versatile intensities available
-Comes with spare pads for the rest of the body
Cons
-Not fit for pregnant women, people with an implanted device, cardiac pacemaker, defibrillator or patients with DVT
Verdict
This can tone the hardest muscles and the stiff parts of your feet too. This makes it a great treatment for your tiring work routine or weak muscles.
Physiotherapeutic Device
If you want to look into traditional deep muscle massage and rejuvenation systems that are based on concepts that have healed thousands of people from various centuries, then the physiotherapeutic device can be your way to go.
The Physiotherapeutic device has been designed to perform on various levels to help you cope with tiring muscles and foot aches. You can incorporate the circulation-boosting mechanism into your daily life to help with not only muscle repairment but also improved lymphatic drainage, metabolism improvement, relieving stress and fatigue and even promoting better sleep patterns and improvement of the quality of sleep.
Features
It offers Foot Reflexology, Acupuncture, Infrared technology and chronic foot relief massage all in a single unit. The footpads can be used on other problematic areas of your body as well such as your shoulders and back.
The device can be used in an automatic mode along with about 25 other pre-set stimulation modes. You can also enjoy about 99 adjustable massage intensities for a custom feel.
The device has a built-in timer and a quality LCD display for time, intensity, and modes.
You also get additional accessories such as a massage therapy belt, 8 pads for body, a remote control, 2× 6.5 feet connection wires, 100-240 V universal AC adapter.
Pros
-Comes with additional accessories
-Can be used with other people, and shared as well
-Offers great flexibility
Cons
-Does not have a heat setting
-No travel case or bag included
Verdict
This is a compact way to enjoy the traditional skills and brilliance of therapists who developed reflexology in earlier times.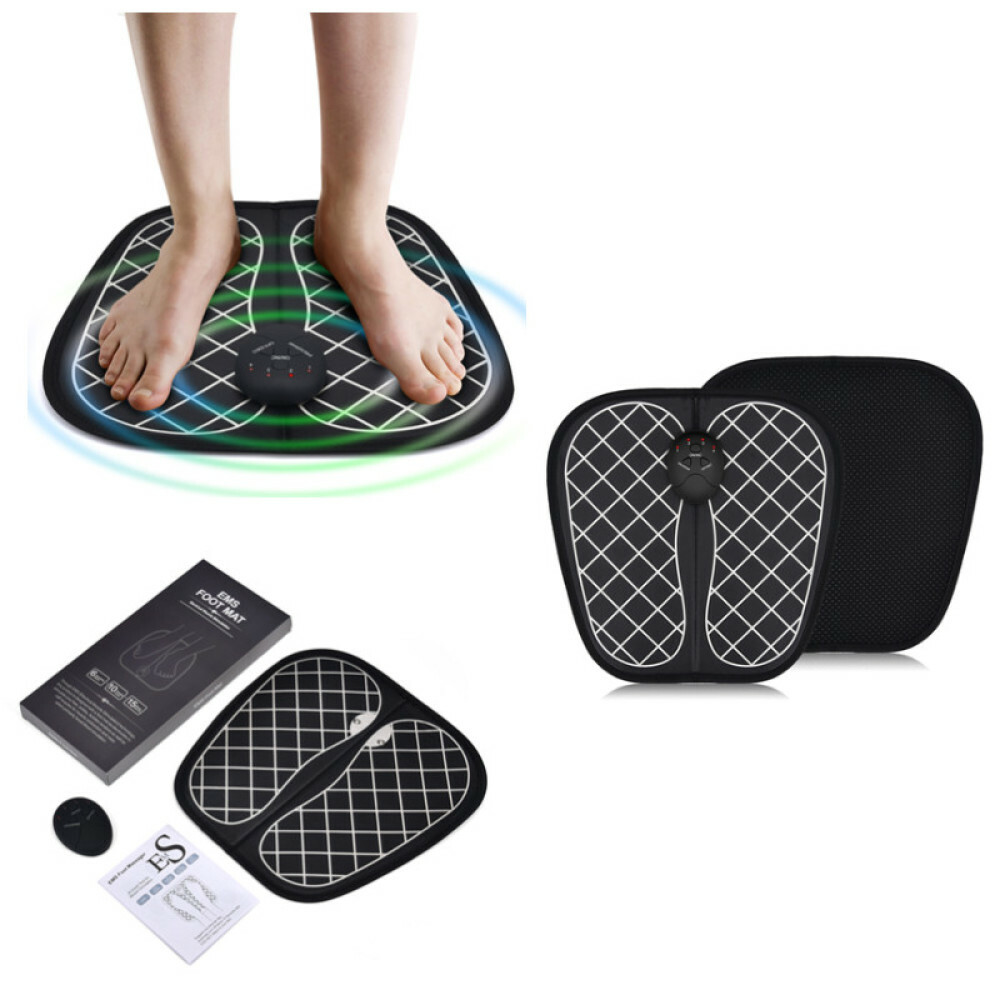 Electrical Foot Stimulator
Here is another amazing medically tested and legal foot energizer. The Electrical Foot Stimulator offers two kinds of varied foot circulation massages in the form of EMS and TENS. This is a non-vibrating and rather deep muscle toning foot circulation device. You can use it safely and free of all troubles, as it is a Cleared Class II Medical Device.
Features
The electrical foot stimulator offers much higher intensity levels of foot stimulation. This is ideal for people with diminished sensitivity. Even though if a person is suffering from diminished sensitivity, the treatment may take time to begin to work. This is because the cells need to be internally repaired.
There are 25 different arrangements that each senses and operates individually.
It can improve your balance. You can basically use it at any part of the body. You will receive it with simple placement diagrams, a remote control including batteries, and a gel for massage care.
Pros
-You get a Spectra Gel and an extra set of 4 body pads are included
Cons
-It cannot be used if you have an electronic or metallic implant, such as a pacemaker or AICD in place.
-Can not be used if you are being treated for, or suspect you have, a deep vein thrombosis or are pregnant
The EMS and TENS system is designed to carry oxygen-rich blood that holds fresh nutrients to the tense muscle region of the feet and legs. This can speed up recovery.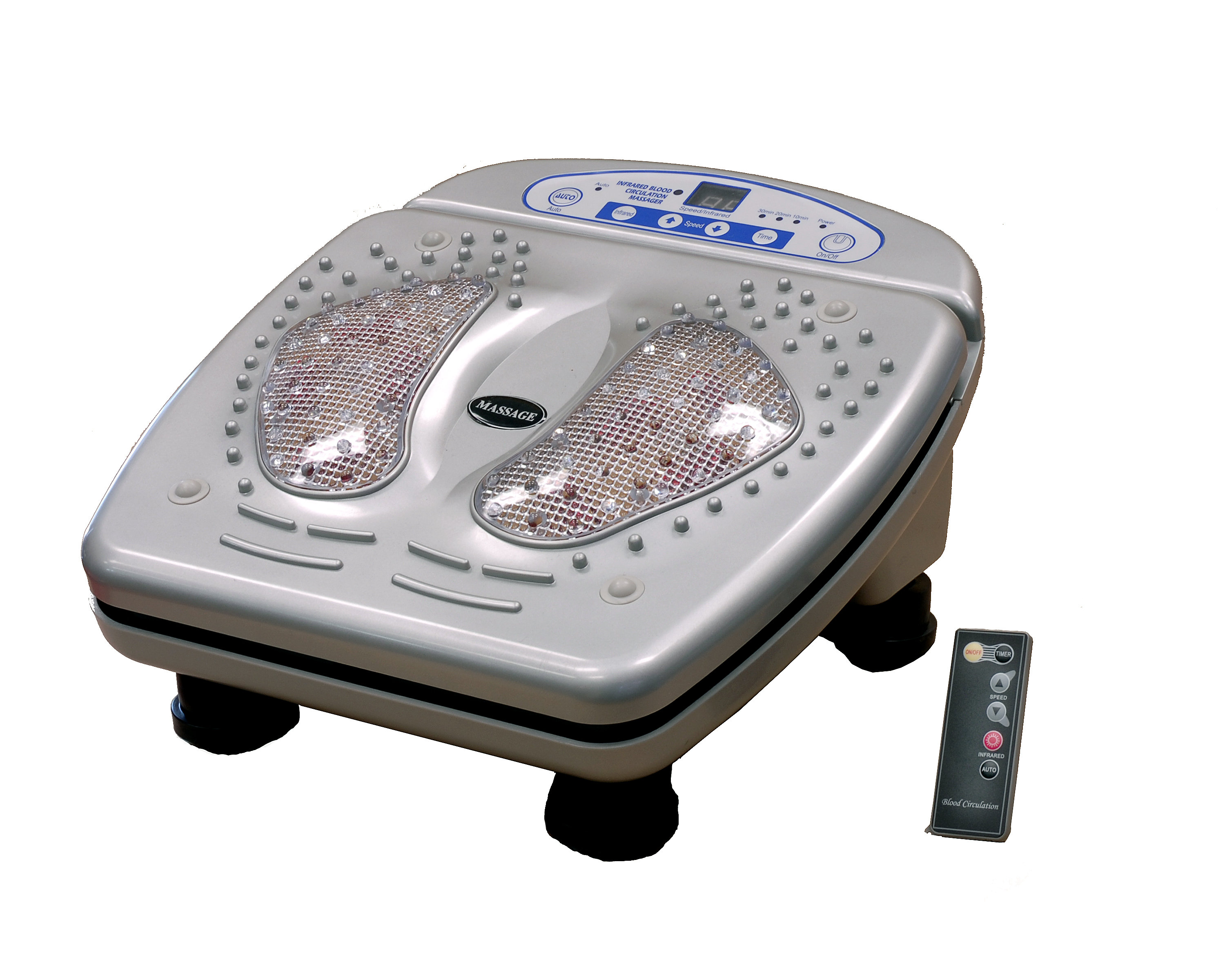 Sunpentown Infrared Blood Circulation Massager
If you do not want to go into the electrode massagers then you can look into the Sunpentown Infrared Blood Circulation Massager. An infrared massager uses high-frequency vibration and magnetism on the basis of science to heal pains and to stimulate cell repair mechanisms in the body.
Features
This is made of plastic. It is remote control operated. It has 8 infrared treatment options and 12 vibrating intensities. You can enjoy both, an auto and a manual mode. It can help in drainage and improving metabolism. The device has a 15-minute timer for you to enjoy care-free.
Pros
-Various intensities
Cons
-You need to check with your doctor if you can use it.
The pure and fresh blood pumped into the areas by infrared helps in uplifting muscle fitness and enhances the health of the area including all veins, nerves, and tissue packed in the crevices of the feet.
AccuRelief Ultimate Foot Circulator
Accurelief also makes quality foot circulation systems. The Accurelief foot circulator is based on EMS technology. This allows it to be a good option for conditions such as neuropathy and plantar fasciitis as well. Diabetic patients also find relief in this. It can significantly reduce swelling.
Features
You will receive an AccuRelief Ultimate Foot Circulator with its remote, and about 4 electrode pads, 2 pairs of lead wires, an adapter, a remote control. A simple electrode placement guide & power supply unit. It offers you 15 preset programs to help alleviate muscle pain.
Pros
-You can use it elsewhere on the body as well.
-It can provide immediate relief.
Cons
This eliminates the need to take medicines with loads of side effects and sometimes placebo effects. To a great extent this is true healing.