Whether you are a busy person on the verge of a breakdown or whether you are in search of a hair massager for numerous health benefits, you are in the right place now. This guide has been designed to quickly navigate through your needs and locate the right solution in terms of the best electric scalp massager. If you are ready for being in a much better place than the stats quo emotionally, physically and neurotically, then please keep reading.
Do you head home from work or college with literally no time for yourself but a lot of pending work? Fine, we never want to address such problems, but they exist. Men and women everywhere feel overworked, exhausted and even burnt out. It is essential not to forget our priorities. And these priorities are not always the needs of others but sometimes are own as well. This is why having an electric scalp massager is essential. It can provide the missing therapy and rest you need to refuel for yet another crazy day in your life.
It is easy to ignore your own needs when you are short on time. Plus, nobody likes to put in the effort on your wellness, it is just TME (too much effort). What you can and should do is invest in automated solutions. Just plug and play, it is like Netflix, all you gotta do is relax and enjoy. Massagers sound very pesky but instead of being skeptical about them, try to be more open-minded and you will do just great!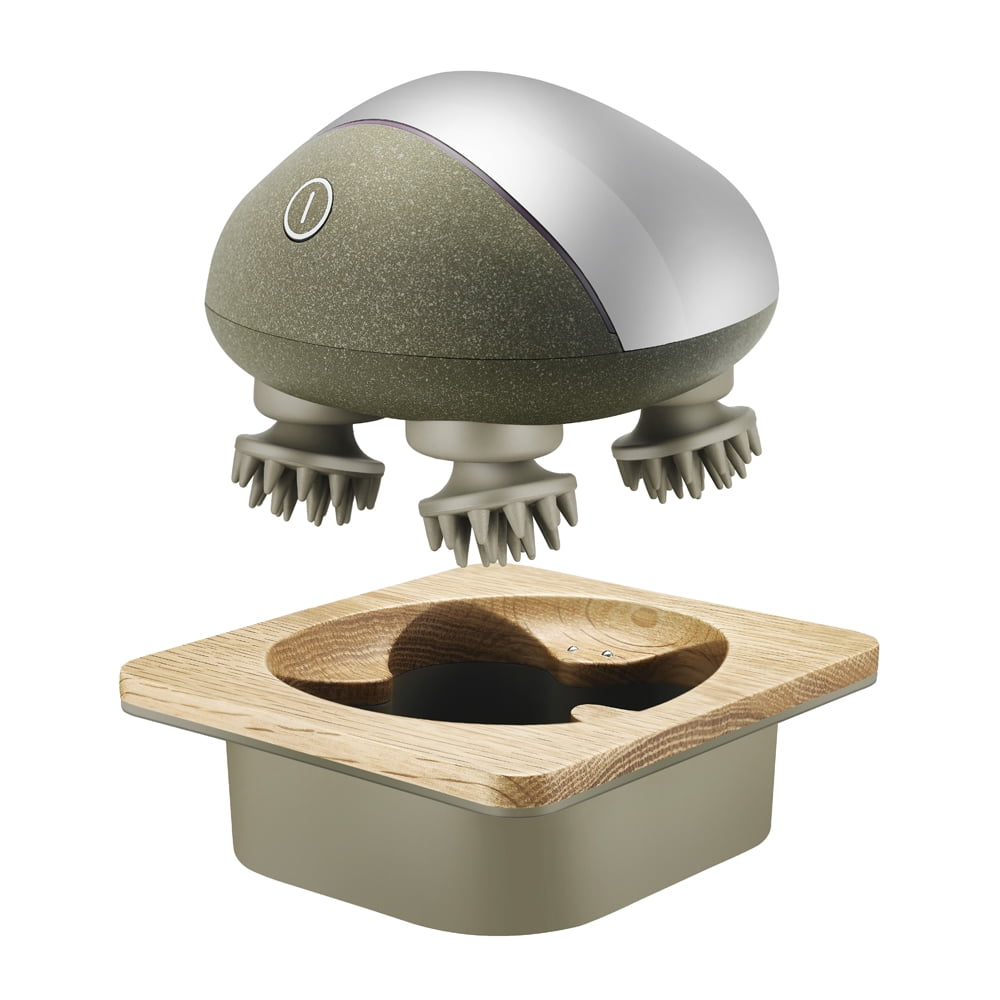 Breo IPX7
If you travel a lot and you have a busy lifestyle then invest in your TLC with the Breo scalp massager. It comes in a portable version, it is mini and effective. The scalp massager will come with a charger and it can be recharged. It comes with a Bamboo wood charging base and has removable massage nodes for easy cleaning. The best part? It is water-resistant. So you can take it out to a poolside or on the vacation without worrying about the water spillage.
Features
The mini massager is available in 3 major colors. You can enjoy the ergonomically built massager anywhere. It can be used by any person regardless of their sex or gender. It has a bamboo trimming base which adds value to the place it is kept at.
The Breo IPX7 is quite technologically advanced. It has a 96- design that replicates six different massage styles and can be applied through horizontal gliding. You can use it for kneading stress points. You can use it for targetted stress release in temples, in the neck region and at the nape of the neck. It is great for any part of your head and that really allows it to get into the heart of the pain and give you warmth and comfort.
The massage from the Breo mini portable massager can help you soften your skin, soothe your nerves and calm any pressure points. It can be used in the shower because it is waterproof. The steam from your hot shower water can be even more stimulating in harmony with the massager. It comes with 4 interchangeable massage tips. You can use the massager for other parts of your body such as your legs, hands, and shoulders. The massager is non-irritable. It is made out of silica gel and allows a uniquely soft and balanced pressure.
Pros
Gender-inclusive
Washable and water-resistant
soft and gentle but deep and stimulating
Cons
inNot availabe a metallic look
You can simply enjoy its basic operation to use functions such as relaxation, stress relief, and mental stimulation. It is safe to use around kids and child-proof. Who could not want a massage so good?
Fittop Electric Massager
Fittop makes waterproof massager as well. This electric scalp massager from Fittop comes in a handheld version. You can add shampoo to it and it can wash your day away from your loaded head. It has soft silicone heads and they allow adequate kneading pressure to stimulate the stressed parts of the head in each nook and cranny possible. The upgraded feature with this massager is that it vibrates to get into the more sturdy parts of the scalp. It improved blood circulation and promotes natural hair growth.
This will feel like a spa treatment and will not consume the time taken in traveling to and back from a spa. It has 28 contractors. These follow the natural shape of your head. They feel like gentle and deep hand stimulation. These can enhance the blood flow better than your hands can.
Features
It offers a hand-simulation 3D stereo kneading massage and 3 cyclical kneading massage modes. These include modes such as a scratching-only mode, vibrating plus scratching mode, and a vibrating-only mode. These can reduce muscle tension and nerve stress. The massage is also very beneficial for eye care, skincare, and breast health. It can be used with facial and body sheet masks as well for better absorption of nutrients. The product includes an FMH931 Head massager, a Waterproof charging base, a USB charging cable, its travel bag, the user guide, and a year guarantee.
Pros
Multiple settings in one massager
comes in 4 beautiful colors and metallic finishes
The product includes a travel bag
Cons
Does not have a loofah built-in for harsh body scrubbing
It has been engineered to match the shape of the human head. It has 2-speed tension settings. It will not be caught or tangled in the hair. This makes it a great spa at-home tool as well as a health enabler.
Scalp Massager Electric Head
If you want a deep and hardcore massage for your head every night then you can invest in this massager with 84 massage nodes designed for a deep-kneading massage.
Features
The massager's body is made from the IPX-7 Waterproof component, which performs in water like it does without it. The charging base is separate from the actual massager.
Many massager heads are included in the package. It comes with 21 individual nodes in each head. These are created from nature-friendly green silicon. The nodes stop hair pulling or tangling. The massager can provide a fulfilling plus instant release from headaches. It is super lightweight and fit for travel. It weighs about 0.7 KG. You can choose the speed and intensity. You can also experiment with the rotation of the nodes.
Pros
It can be used at any place on the body
The massager comes with a 12-month warranty
-Customize your rotation
Cons
Does not come with a travel bag
This can not only deep clean the hair and de-clog the accumulated dirt it can also release built-up stress in your head. It can prove to be a thoughtful gift and a very relaxing tool for personal self-care and time.

TOUCHBeauty New Generation Sonic (TB-1718)
TouchBeauty makes quality sonic massagers. This is the new generation sonic massager designed for healthcare. But, it is very multi-purpose. It can be used to relieve any pain or stress build up in the human body of male and female users alike. It will not tangle your hair up, it will not even make them coarse or over dried.
Features
The sonic massager has 2 different massage heads. These can be used for facial and sensitive skin areas as well as the head. One is metal-plated the other one is made out of silicone. It is great for skincare and hair treatments. You can customize the massage intensity and speed.
Pros
Custom speeds available
Comes with 3 multi-purpose attachments
It comes with a 12-month warranty
Soft silicone construction and rugged plated construction available
Vibrates for deep cleanse
Cons
Does not come in many colors
It simply deep cleans and releases endorphins to soothe your hair follicles as well as nerve endings under the scalp. It can be used around the rest of the body as well.
Marnur Electric Scalp Massage
If you are looking for a powerful vibrating head massage then you should look into the Marnur Electric Scalp Massage unit. It comes in a comfortable kit.
Features
It includes a hairbrush stimulator, a body stimulator and a shower loofah pad. This can also be used with shower gel and shampoo. It is pet-safe in case you want something to wash up your pets and want their fur to shine beautifully.
The product includes 2 AA batteries. It can be operated by a fingertip on/off function. It has an ergonomic design and it is easy to use.
Pros
Gentle and deep clean options
sCustom massage possible
Versatile and multipurpose
Body scrubbing tools included
Cons
Does not come in many colors
The battery charging apparatus is not waterproof
This unit can be used for multi-purposes. That makes it an ideal homecare tool and can improve your beauty regiment.
We hope that you found the most beneficial head massager for your daily needs. These can be a great addition to your self-care routine, do not ignore yourself.